Qingdao Xinguangzheng Steel Structure Co., Ltd specialise in the design and manufacture of premium quality steel structure buildings, such as: Steel structure warehouse, steel structure workshop, steel shed and prefabricated house.
An efficiently designed prefabricated steel building can be lighter than conventional buildings by up to 30% resulting in significant savings for the build overall.
From concept to completion, there is no building system more efficient in terms of speed and value than that of steel buildings.
Qingdao Xinguangzheng Steel Structure has lead the way with flexible pre-engineered designs resulting in innovative industrial buildings to suit any building requirements and business needs. Our ranges of prefabricated steel buildings are suitable for use as steel structure workshops, warehouses, factories, complexes, offices, depots, shops, supermarkets, prefabricated schools and recreational facilities.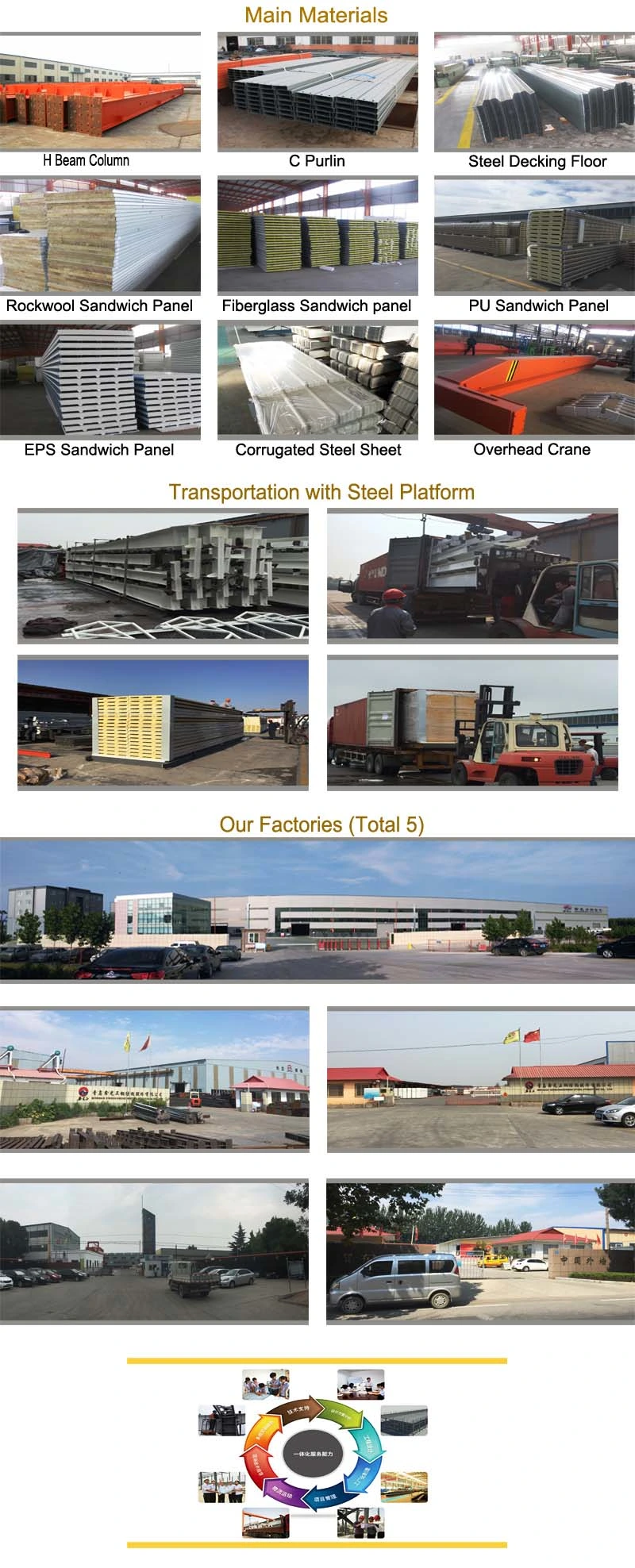 1. Steel Structure Warehouse
2. High quality & Low Cost
3. Certificate: ISO9001: 2000
4. Steel: Q235B &Q345B
5. Recycling
Qingdao Xinguangzheng Steel Structure Co., Ltd.
A. Customers have the drawings
We can provide you the full service of production, shipment and
Installation guide, which is high quality and low cost. Because we own all kinds of technical facilities, complete test instruments and advanced production processes.
B. No drawings
Our excellent design team will freely design the light steel structure warehouse/workshop for you. If you give us the following information, we will give you an satisfactory drawing.
1. Dimension: Length, width, ridge height, eave height, etc.
2. Doors and Windows: Dimension, quantity, installation position.
3. Local Climate: Wind load, snow load, roof load, Seismic load
4. Insulation materials: Insulated Sandwich panel or Single Steel Sheet
5. Crane beam: If you need it, it will be very helpful that you tell us its technological parameters.
6. Usage: If you tell us the application of light steel structure warehouse, we can exactly design the drawings or match suitable materials for you.
7. Other requirements: Such as fire proofing, transparent roof, etc. Please kindly inform us, too.
Qingdao Xinguangzheng Steel Structure Co., Ltd sincerely welcome visiting customers, and build a long-time cooperation relationship with each other. We'll be more than happy to help you in any way we can.
Qingdao Xinguangzheng Steel Structure Co. Ltd
NO
Item
Comment
A. Main Steel Structure
1
Column, Beam and Wind-proof Column (KFZ)
Q345, Blasting+Painting/Galvanization
2
Roof & Wall Purlin (C/Z Section Profile)
Fix steel framework and cladding materials
B. Support
1
Tie Bar
Connected purlins
2
Roof Support
Cross parts between columns and beams
Support between Column
3
Bracing bar
Between columns to enhance the stablitty of structure
4
Knee Bracing
5
Joints
6
Sleeve Pipe
7
Angle Steel
Used in the eave part
C. Roof
1
Roof Panel
Insulated Sandwich Panel/Single Steel Sheet
2
Skylight Panel
Thickness: 1.0-3.0mm
3
Ridge Tile
0.5mm color-coated steel sheet
4
Tile Cushion
5
Fastigium sheet
0.5mm color-coated steel sheet
6
Self tapping screw with saddle cushion
7
Gutter
8
Down pipe
D. Wall
1
Wall Panel
Insulated Sandwich Panel/Single Steel Sheet
2
Gable Corner Sheet & Flashing Sheet
0.5mm color-coated steel sheet
E. Door & Window
1
Rolling Door/Sliding Door
2
PVC Window/Aluminium-alloy Window
3
Roof Ventilator
4
Steel Canopy
5
Trim coverage sheet for window and door
0.5mm color-coated steel sheet
F. Fastener
1
High-strength Bolt
2
Common Bolt
3
Anchor Bolt